To all my fellow Entrepreneurs…don't give up.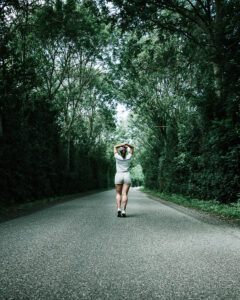 I was running today and thought I'd add just 1 more mile to my run. Boy, was I in for a surprise!  Afterwards, I thought..."What just happened? Why was that extra mile soooo hard today?"
Later, according to my husband & my Accuweather app, the "Real Feel" temperature was actually over 100 degrees Fahrenheit. But really, that couldn't be the only reason it ended up being so hard.
I run an average of 3 miles at least 2 to 3 times a week, and occasionally, add that extra mile of the greenway, to make it 4. Usually no biggie...but today, after I reached 2 miles, I suddenly lost all my steam, and was at one point wondering if I could even walk the rest of the way.
But thanks to my trusty headphones & "Run Fast" music playlist, I was able to "slog" (slow jog) most of the way back, with a couple of mini slow "sprints" to get me back to the finish line...and thankfully, my air conditioned car. Oh dear goodness...what just happened?
As I was sitting there trying to hydrate and process what had changed mid-run so drastically, I had a mini-epiphany. This run from start to finish, is pretty much, in a nutshell, how the first half of 2020 has gone for me in my business as well.
Before January 2020 even hit, I was full of vim and vigor and sooo pumped about growing my marketing coaching business this year. Both of my Mastermind groups were continued to grow and thrive, and I was excited about my upcoming marketing workshops too. I was extremely optimistic about how I could really grow my business in 2020. I was running my "race" at a great pace and I was feeling fine.
Then, as the end of 1st quarter came to a close, and the Covid virus shut down our entire economy, my hopes for launching my 2nd quarter coaching groups (and continuing to grow my business revenue) came to a screeching halt.
Just being worried for the safety of my family, friends, clients, our healthcare workers and people struggling with the virus was overwhelming enough. Then as I saw many of my entrepreneur clients struggling in their businesses too, all I knew was this is NOT the time to "run" in my business...it's time to stop, take a breath and just take it one step at a time."
My passion is helping small business owners, and until this Covid event happened, I was perfectly happy to focus my efforts on the entrepreneurs in my community here in North Alabama. And just like I like to run the same greenway path pretty much every time, I was content to stay on my current "business path" too.
But when Covid hit our economy, I realized quickly I could either stop completely, or learn how to adapt, adjust and get out of my comfort zone, and learn how to help my clients virtually. And that's how Zoom became my best staff "hire." So then with Zoom's help and a few willing clients, some former and some new ones, I was able to start "slogging" forward again.
And recently, I've been taking online classes myself, connecting with amazing new resources via my new best friend, Zoom, and starting to get excited again about growing my business and sharing my newfound knowledge, tips and tricks with my clients too.
If you're an Entrepreneur, I salute you...we aren't quitters. Right now, you may have had to stop, regroup, reset, hydrate, walk, "slog" as you navigate this new path. But if you're not already back "up and running", I promise you, your day will come. Don't give up! Things WILL change...they always do. The weather, school, the election, a vaccine, who knows what's around the bend of this path. But I promise you, if you give up, you will always wonder...what if I had kept going just 1 more mile?
If you are passionate about what you do and how your business helps the world, it's worth it to keep moving forward...I promise.