DO YOU...
Want to Market Your Business, but need help reaching Your Target Customer?
Need Hands-On Help with your Social Media, Emails & other marketing tools?
Want to work with a Marketing Expert, but it doesn't fit Your Budget?
Need an Accountability Partner to keep you on track to reach Your Business Goals?
If you answered 

"YES"

to any of these questions, then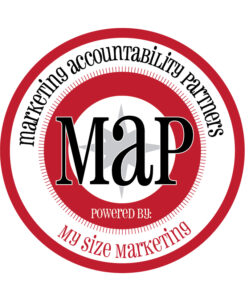 will help you take your marketing to the next level of success!
New Membership Program AND New Groups Available NOW!
My Size Marketing's unique flagship program, Marketing Accountability Partners (MAP), is a great way to take your business marketing to the next level, by working with a "mastermind" group of business people or 1-on-1 with an experienced marketing professional.
Also throughout each quarter, our MAP program includes a variety of Marketing Workshops. These workshops are created specifically to help businss owners learn new marketing strategies and become more comfortable with the latest marketing tools in a relaxed, interactive environment.
Still have questions?
Then click here to book your FREE MAP Marketing Strategy Session and find out which MAP Marketing Coaching option is right for you!
Would like a FREE Marketing "Cheat Sheet" for Your Small Business?
Click here to download yours today!