Jan
23
Wed
MAP 1st Qtr Kickoff

@ Hampton Inn Madison
Jan 23 @ 11:00 am – 1:00 pm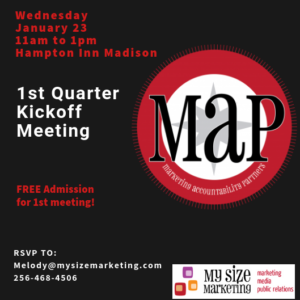 Are you a Small Business Owner who needs help with your marketing planning for 1st quarter 2019?
Would you like to be part of a supportive network of other business owners just like you to help keep you accountable of your 2019 goals?
Would you like to work with a professional marketing consultant to help you take your business to the next level…at a fraction of the regular cost?
Then MAP (Marketing Accountability Partners) is right for you!
For more info, check out our MAP page:
https://mysizemarketing.com/mapforsuccess/
Join us for our 1st Quarter Kickoff Meeting on Wednesday, January 23rd from 11am to 1pm at the Hampton Inn Madison.
This first meeting is free to attend…just RSVP by messaging us here so we can hold you a seat. Limited seating is available.
Feb
13
Wed
Sounds Like a Plan

@ Hampton Inn-Madison Huntsville Airport
Feb 13 @ 8:30 am – 10:30 am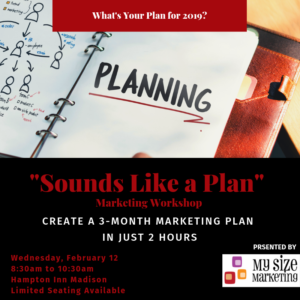 According to Wikipedia, "A marketing plan is a comprehensive document or blueprint that outlines the advertising and marketing efforts for the coming year. " And for small business owners, it's one of the most important things you can do to make sure you achieve your business goals. 
Have you created your 2019 marketing plan yet? If not, then this workshop is just for you! In just 2 hours, marketing expert Melody Tholstrup of My Size Marketing, will guide you in creating your own 3 month marketing plan to help you kick off 2019 the right way.
Limited Seating Available, so save your spot today!
Mar
13
Wed
MAP: Marketing Accountability Partners Meeting (for Members)

@ Hampton Inn Madison
Mar 13 @ 11:30 am – 1:00 pm