Jan
13
Mon
"Ten Marketing Takeaways for 2020" Workshop

@ Huntsville Hub
Jan 13 @ 10:00 am – 12:00 pm

Join us and learn "10 Marketing Takeaways" that you can implement in your business today to take your marketing to the next level.
This is also our official MAP Huntsville Kickoff event for 2020.
We're excited to present this workshop in partnership with The Huntsville Hub!
Please click the TICKETS link to save your spot!
Apr
30
Thu
MAILCHIMP: Email Marketing for Small Businesses
Apr 30 @ 11:00 am – 1:00 pm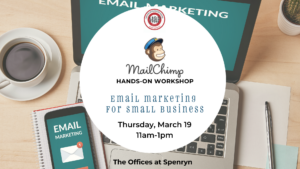 NOTE:
THIS IS NOW A VIRTUAL WORKSHOP via ZOOM. (All registrants will get the Zoom link before the workshop.)
Email Marketing is still one of the best ways to reach potential customers & to take care of your current customer too. There are many email marketing options available these days, but Mailchimp is one of the most widely used tools by small businesses because of the ease of use and the affordability. But even "easy tools" take time to master.
One of our continuing monthly MAP Hands-On Marketing Workshops, this jam-packed class will cover some of the many tools that MailChimp has available, even at the beginner "Free" level, including great email templates, photo options and even clever animated "GIF" features.
This March "Phase 2" Mailchimp workshop will also feature a special guest speaker, Virtual Administrative Expert, Carolenn Biglari of Biglari Solutions. Carolenn will expand on some other cool marketing tools that MailChimp has available, such as Marketing Landing Pages & creating a way to capture email addresses with the option of providing free "Value-Added" content, such as 1st Time Customer Discounts and Online Specials, as well as free Tips & Checklists for your clients.
Have your laptop ( & your computer mouse) ready to use & join us for this 2 hour hands-on Mailchimp tutorial…and take your Email Marketing to the next level!
(NOTE: You MUST already have a MailChimp account created first for this class and have ideally used the tool to end at least one email marketing piece or newsletter, and then we'll take it from there! :D)
A few spots left…save your spot today!